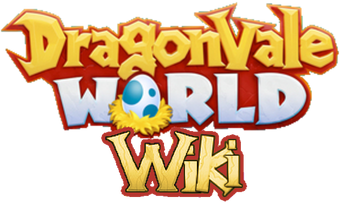 DragonVale World Wiki is a wiki that any registered user may edit!
We are a fan-made, community-driven site with no association to Backflip Studios.
---
DragonVale World is a is a simulation video game where the player manages their own park by breeding and leveling up dragons, as well as decorating their parks. The game is created by and published by Backflip Studios and is available for the iOS and Android platforms. It was released globally on November 1, 2016. Dragonvale World uses the freemium business model. Although the game is free to play, players can use their iTunes accounts to make in-game purchases of game currency to help progress through the game.
---
Backflip Studios has a Customer Support Portal to aid in communicating with the fans and players of their games. Players have an option to sign up to receive emails directly from Backflip Studios whenever a new post is added to the Customer Support Portal. Registration to receive these messages can be found here.
---
---
Friend Requests
PLEASE USE THE "FRIENDS" PAGE FOR FINDING FRIENDS.
DO NOT USE THE COMMENTS SECTIONS ON OTHER PAGES!
THANK YOU!
---
Other Interesting Links
Help Contribute Around The Wiki
DragonVale World Wiki's Active Staff Members
Administrators
Wiki Moderators
Staff Members Are Listed In Promotional Order
       A Wiki Moderator with an asterisk next to his/her name is also a Chat Moderator.
       If you have any questions or concerns, contact the appropriate individuals on their message walls.

Announcements
---
Ironwrought Dragon was released. "What a surprise, Ironwrought's come to the Surface! The wizard Fe Brinell first discovered the Ironwrought performing a feat of strength, and it's sure to enjoy the challenges the Surface has to offer as well. Here for a limited time!"
---
A Universal Truth

The first legendary dragon has arrived on the Surface! If you are well-versed in cosmic studies, the secret will unfold. If your celestial collection is incomplete, look to the night sky to fullfill the prophecy.
Bug Fixes and Optimizations

The magicfolk have eradicated some pesky annoyances interfering with their life's work.
Unofficial Information

Ophiuchia Dragon released, which appears when all 12 Zodia habitats are lit up. See Zodia Dragons for a diagram showing where to place each type of Zodia dragon to light up habitats
---
---
---
Community content is available under
CC-BY-SA
unless otherwise noted.