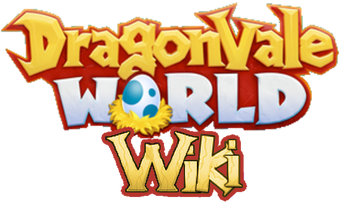 DragonVale World Wiki is a wiki that any registered user may edit!
We are a fan-made, community-driven site with no association to Backflip Studios.
Dragonvale World is no longer playable. You might be looking for the Dragonvale Wiki.
---
DragonVale World was a simulation video game where players managed their own parks by breeding and leveling up dragons, alongside decorating and expanding their parks. The game was created and published by now-defunct Backflip Studios, becoming available for iOS and Android platforms on November 15, 2015 as beta, and November 1, 2016 worldwide. Dragonvale World used the freemium business model. Although the game was free to play, players had the option to purchase gems and in-game items via an iTunes or Google Play account for further advancement and completing collections.

As of November 20th 2019, Dragonvale World has been removed from the App Store, with in-app purchase functionality removed. A full-scale shutdown of the service is expected to commence on January 10th, 2020, making the game no longer playable and the app itself useless.
---
---
Other Interesting Links
Help Contribute Around The Wiki
DragonVale World Wiki's Active Staff Members
Administrators
Wiki Moderators
Staff Members Are Listed In Promotional Order
       A Wiki Moderator with an asterisk next to his/her name is also a Chat Moderator.
       If you have any questions or concerns, contact the appropriate individuals on their message walls.

Announcements
---
Game Updates - November 20, 2019
As of November 20th 2019, the game has since been removed from the App Store and in-app purchases have been disabled, meaning new players will no longer be able to legally download and play the game. Players whom have previously downloaded the game have a limited time frame to replay the game once again.
As of January 10th, 2020, the game will become unplayable resulting in permanently losing access to your park and rendering the existing app useless.
---
Game Updates - August 2, 2018
Ironwrought Dragon was released. "What a surprise, Ironwrought's come to the Surface! The wizard Fe Brinell first discovered the Ironwrought performing a feat of strength, and it's sure to enjoy the challenges the Surface has to offer as well. Here for a limited time!"
---
Update 1.24 - July 18, 2018
A Universal Truth

The first legendary dragon has arrived on the Surface! If you are well-versed in cosmic studies, the secret will unfold. If your celestial collection is incomplete, look to the night sky to fullfill the prophecy.
Bug Fixes and Optimizations

The magicfolk have eradicated some pesky annoyances interfering with their life's work.
Unofficial Information

Ophiuchia Dragon released, which appears when all 12 Zodia habitats are lit up. See Zodia Dragons for a diagram showing where to place each type of Zodia dragon to light up habitats
---
Community content is available under
CC-BY-SA
unless otherwise noted.